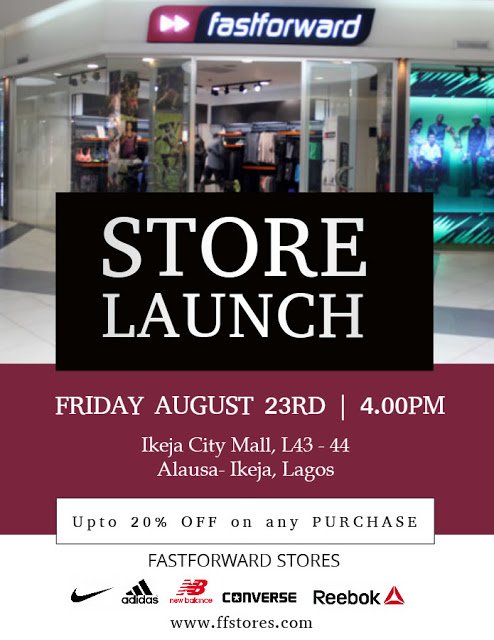 Fastforward, which is Nigeria's number one-stop-shop for high- quality Sports Brands is set to unveil their New Multi-Brand Flagship Store in Lagos.
FastForward is collaborating with a number of major Sports Brands, including Nike, Adidas, Converse, Reebok, New Balance and many more, in delivering authentic Sporting Apparel, Footwear & Accessories for the Nigerian market.
FastForward is set to reveal the news on Friday, August 23, 2019, at The Ikeja City Mall, Lagos amidst glitz and glamour.
Confirming news to reporters, SmartMark's General Manager, Oluseyi Falodun said:
"FastForward is excited and proud to launch this unique Sport's Store in collaboration with the Best sport brands in the world as part of our ongoing mission to take over the sports brand market in West Africa".
"We are known for our value in delivering the latest quality Performance and Lifestyle Sportswear for men and women. Our range includes tops, bottoms & footwear that cut across Football, Running, Basketball and Lifestyle Categories".
"You'll want to clear some space in your closet for your next purchase from the 23rd of August, 2019". You can also visit our stores at Palms Mall, Lekki Lagos; Ikeja city mall, Ikeja Lagos; Novare Mall, Sangotedo Lagos; Adeniran Ogunsanya mall, Surulere Lagos; Jabi lake Mall, Abuja; Ceddi plaza, Abuja; and Portharcourt Mall, Portharcourt, shop online @www.fastforwardstores.com OR Call: 07031758488